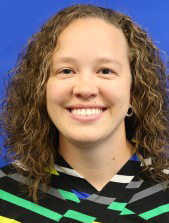 Janette Burgin
MEB Director of Operations
Culver Stockton College (MO), Head Women's Coach
Central Methodist University Assistant Coach
B.S. Physical Education, Quincy University
Midwest Elite Basketball Director of Operations Janette Burgin was named head coach of the Wildcats women's basketball program on Nov. 6, 2013.
Burgin previously served as an assistant coach at Central Methodist University where she was instrumental in helping the Lady Eagles achieve one of the greatest turnarounds in NAIA Division I history.
In 2011-12, Burgin helped CMU surpass all expectations by posting a 17-13 overall record and placing third in the Heart of America Athletic Conference after going 5-25 the year before and finishing last in the HAAC.
With Burgin's help, the 2012-13 team jumped out to its best start in school history at 16-1, which included victories over two top 25 teams and NCAA Division I foe Chicago State. The season saw two eight-game winning streaks and the Lady Eagles finished 25-8 overall and 12-6 in HAAC play which earned them their first trip to the NAIA Division I National Tournament.
A native of Frankfort, Ind., Burgin joined the CMU staff as a graduate assistant after completing her career at NCAA Division II Quincy University in Quincy, Ill. After redshirting her freshman season due to a knee injury, Burgin played in 118 games during the next four years, including 96 starts for the Lady Hawks. She finished her career with 1,301 points, averaging 11.1 points per game in her senior season. Burgin led the team with 55 three-point field goals made, while also recording team highs of 27 blocked shots and 46 steals. She was second on the 2009-10 Quincy team in rebounding and assists with 126 and 74, respectively. During her four seasons at QU, the Lady Hawks advanced to the NCAA Division II national tournament after the 2007-08 and 2008-09 seasons.
Burgin earned Bachelor of Science degree in physical education with a minor in sport management from Quincy and her Masters of Education degree from Central Methodist.