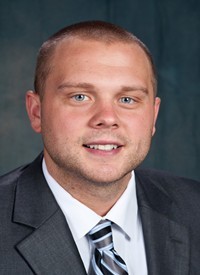 2013 MEB Coach of the Year
Bryce Tesdahl
Director of MEB Minnesota
University of Minnesota-Duluth, Former Assistant Men's Coach
University of Minnesota - Duluth Assistant Coach
Bemidji State University Assistant Coach / Player Development Specialist
Bryce Tesdahl is in his eighth year working as a camp director, instructor and player development specialist for Midwest Elite Basketball.
Bryce Tesdahl is entering his second season as the Head Boys' Basketball Coach at New Prague High School in Minnesota. Prior to his arrival in New Prague, Tesdahl was the Men's Basketball Graduate Assistant Coach at the University of Minnesota Duluth from 2012-2015 and All-Conference Point Guard at Bemidji State University from 2008-2012. Tesdahl has completed 7 summers with Midwest Elite Basketball and is a co-owner of the MEB state of Minnesota.
Tesdahl led the Trojans to a 20-8 season in New Prague's inaugural season in Class AAAA. The Trojans won the 2015-2016 Wright County East Conference Title and made it to the Section 1AAAA Semifinals before being knocked out by State Runner-Up Lakeville North. Not only did Tesdahl make a great impact at the varsity level, Tesdahl made it a priority to build and work with the New Prague Traveling and Youth Basketball Associations.
Tesdahl served as the Bulldogs graduate assistant the past three seasons. Tesdahl helped the Bulldogs increase their win total from 8, 12, to 16 wins from year 1-3. During his second season, Tesdahl coached, developed, and recruited multiple NSIC All-Conference 1st team and 2nd team players. At UMD, Tesdahl's primary duties included individual player development, recruiting, scouting, film exchange, travel coordination, academic monitoring, and alumni relations.
Before his arrival to UMD as a graduate assistant, Tesdahl finished his playing career at Bemidji State University as one of the best players in school history. Playing in an elite NCAA DII conference, Tesdahl set the NSIC single-season record for assists with 144 at the time. He dealt out 173 assists on his senior season, which broke his previous school record for assists in a season. Aside from his individual accolades, Tesdahl led BSU to the NSIC Conference Title during the 2011-2012 campaign and a berth in the NCAA DII Tournament. BSU finished their record-setting season with a 22-9 record.
Tesdahl prepped at Crosby-Ironton High School (MN) and left as the Ranger's all-time leading scorer with 1,943 career points. He set the single season record for assists in Minnesota and the assist record in the Minnesota State Tournament. As a senior he helped lead the Rangers to a 32-1 record, a Mid-State Conference Championship, Section 8AA Championship and a runner-up in the Minnesota State Class 2A boys' basketball tournament. The four-year varsity starter was named to the Minnesota Class 2A All-Tournament Team and was a Minnesota Associated Press' All-State second team selection at the conclusion of his senior campaign. Was named the Brainerd Dispatch Player of the Year his junior and senior seasons.
Tesdahl's basketball roots run deep as he is the grandson of legendary Head Coach Bob McDonald (Chisholm High School) who had been a Head Coach for 59 years and owns more victories than any Basketball Coach in Minnesota History (1,012). McDonald was inducted into the National High School Hall of Fame July 2014 in Boston, MA.