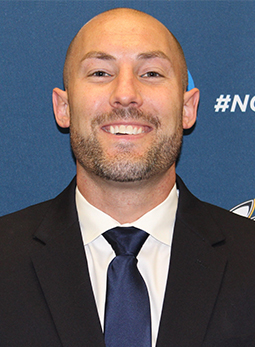 Brad Schmit
MEB Owner & Co-Founder
12 Year NCAA and NAIA, Men's Basketball Coach
Montana State Billings Assistant
Morningside College Assistant
B.S. in Business Administration
M.S. in Organizational Management
Brad Schmit most recently spent 5 years as the assistant men's basketball coach at Montana State Billings.
Prior to coming to MSUB he spent six years as the assistant men's basketball coach/recruiting coordinator at Morningside College in Sioux City, Iowa. Schmit joined the Mustang coaching staff following a decorated playing career in which he finished as the school's all-time leading scorer and most prolific 3-point shooter in the history of the college. In 10 seasons as a player and a coach for Morningside College, Schmit compiled a 193-126 record (117-73 as a coach) including three NAIA National Tournament appearances, three Great Plains Athletic Conference (GPAC) titles and a GPAC Conference Championship.
During the 2011-12 season, Schmit helped lead the Mustangs to an 18-13 record including a 12-8 mark in the GPAC. Morningside had feature wins at NCAA DII Wayne State in which the Mustangs won 75-55 and against No. 5 in the nation Jamestown College. Schmit, who specializes in player development, helped groom several first and second team all-conference players this year.
In 2010-11, Morningside College went 10-8 in the conference which saw four teams finish in the top-25 poll and four teams earn berths to the NAIA National Tournament. The Mustangs beat National Tournament teams Briar Cliff (twice), Bellevue University, University of Sioux Falls and Dakota Wesleyan University.
The 2009-10 season saw the Mustangs rank No. 1 in the GPAC in steals. Morningside College started the season 4-1 including a win against Bellevue University, which was ranked No. 5 nationally at the time.
In 2008-09, Schmit helped lead the Mustangs to a 24-8 record (15-3 GPAC), a GPAC Conference Championship and a Sweet 16 finish in the NAIA National Tournament. The Mustangs' most noticeable win of the season came on the road against NCAA DII Wayne State.
In the 2007-08 season, Schmit helped guide the Mustangs to a 23-0 start and a No. 1 ranking in the nation. Morningside College won the GPAC title and made the Sweet 16 of the NAIA National Tournament. Schmit helped develop second team all-American guard Jack Rother, who was also first team all-GPAC and GPAC Defensive Player of the Year, as well as first team all-GPAC forward Thomas Pargett and second team all-GPAC center Seth Atkins. The Mustangs also beat two NCAA DII programs (Mesa State University and Colorado School of Mines) in consecutive days during the season.
As a player, Schmit was a four-year starter for the Mustangs. In his senior season he led the Mustangs to the Great Plains Athletic Conference title and the Elite Eight of the NAIA National Tournament. Schmit received all-American accolades following his junior and senior seasons and was named to the National Tournament team. Schmit had many key wins in his career including defeating NCAA DI South Dakota State University, NCAA DII opponents University of South Dakota, Hawaii Pacific University, Wayne State University, and various nationally ranked NAIA opponents. As a freshman, Schmit made a single game school-record 10 3-pointers against Dana College.
Prior to Morningside Schmit was an all-state basketball player his junior and senior season for Jesup High School in Iowa and finished as the school's all-time leading scorer.
He graduated from Morningside College with a Bachelor of Arts in business administration in 2006. Furthering his education, he earned his master's from Wayne State College in organizational management and sports recreation in 2008.
Schmit married his wife Jacque in 2015, and they welcomed their first child, Preston Schmit, to the world on June 1, 2016.