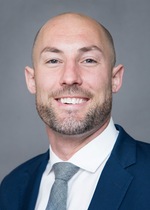 Brad Schmit
MEB Owner & Co-Founder
Central Wyoming College, Head Men's Coach
Montana State Billings Assistant
Morningside College Assistant
B.S. in Business Administration
M.S. in Organizational Management
Coach Schmit begins his third season as the head coach for the Rustler men's basketball program. In two season's leading the CWC men's basketball program; Schmit has obtained a .500 record (31-31), both seasons finished in the top half of Region IX, and in both seasons qualified for the Region IX tournament. Highlights of his young career include beating Salt Lake Community College (ranked in the NJCAA top 10), beating CSI (College of Southern Idaho), beating Sheridan three times during the 2019-2020 season, and winning both play-in games to the Region IX tournament.
Since taking over the program multiple Rustler players have moved on to the four year level:
2019-2020 Players Moving On:
Jerroda Briscoe- Prairie View AM (NCAA DI)
Darius Guinn-Bryant University (NCAA DI)
Jacob Smith-Academy of Art (NCAA DII)
Treyton Paxton-Montana Western University (NAIA)
James Woods-University of British Columbia
2018-2019 Players Moving On:
Connor Nelson-American University (NCAA DI)
David Simental-Colorado Pueblo University (NCAA DII)
Devin Rottweiler-Emporia State University (NCAA DII)
Before taking over the Central Wyoming College men's basketball program, Schmit spent six years as the assistant/associate head coach at Montana State University Billings (MSUB). Serving as the recruiting coordinator, the Yellowjackets had multiple all-conference players, the GNAC Freshmen of the Year, and the GNAC Newcomer of the Year. Three of Schmit's former recruits are still playing professionally in various leagues around the world. As a team, MSUB qualified for the GNAC tournament 4 out of the 6 seasons Schmit was on staff.
Prior to his time at MSUB, Schmit spent six years as the assistant men's basketball coach/recruiting coordinator at Morningside College in Sioux City, Iowa. Schmit joined the Mustang coaching staff following a decorated playing career in which he finished as the school's all-time leading scorer and most prolific 3-point shooter in the history of the college. In 10 seasons as a player and a coach for Morningside College, Schmit compiled a 193-126 record (117-73 as a coach) including three NAIA National Tournament appearances, three Great Plains Athletic Conference (GPAC) titles and a GPAC Conference Championship.
As a player, Schmit was a four-year starter for the Mustangs. In his senior season he led the Mustangs to the Great Plains Athletic Conference title and the Elite Eight of the NAIA National Tournament. Schmit received All-American accolades following his junior and senior seasons and was named to the National Tournament team. As a freshman, Schmit made a single game school-record 10 3-pointers against Dana College. In the fall of 2018, Schmit was inducted into the Morningside College Hall of Fame for his playing career.
Prior to Morningside, Schmit was an All-State basketball player his junior and senior season for Jesup High School in Iowa, finishing his career as the school's all-time leading scorer.
Outside of his playing and coaching accolades, Schmit has built one of the premier basketball camp organizations in the country. Founded in 2006, Midwest Elite Basketball (MEB) just completed its 15th summer conducting basketball camps all across the country. Since its inception, MEB has worked with over 500 high schools, impacted over 10,000 athletes and has an established network of over 100 college coaches on staff.
Schmit graduated from Morningside College with a Bachelor of Arts in Business Administration in 2006. Furthering his education, he earned his Master's from Wayne State College in Organizational Management and Sports Recreation in 2008.
Schmit married his wife Jacque in 2015, and they have two young boys, Preston (4) and Jacob (2).