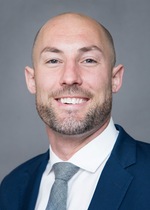 Brad Schmit
MEB Owner & Co-Founder
Central Wyoming College, Head Men's Basketball Coach
Montana State Billings Assistant
Morningside College Assistant
B.S. in Business Administration
M.S. in Organizational Management
Coach Schmit recently completed his sixth season as the assistant men's basketball coach at Montana State Billings in March 2018.
Prior to his time at MSUB, Brand spent six years as the assistant men's basketball coach/recruiting coordinator at Morningside College in Sioux City, Iowa. Schmit joined the Mustang coaching staff following a decorated playing career in which he finished as the school's all-time leading scorer and most prolific 3-point shooter in the history of the college. In 10 seasons as a player and a coach for Morningside College, Schmit compiled a 193-126 record (117-73 as a coach) including three NAIA National Tournament appearances, three Great Plains Athletic Conference (GPAC) titles and a GPAC Conference Championship.
As a player, Schmit was a four-year starter for the Mustangs. In his senior season he led the Mustangs to the Great Plains Athletic Conference title and the Elite Eight of the NAIA National Tournament. Schmit received All-American accolades following his junior and senior seasons and was named to the National Tournament team. As a freshman, Schmit made a single game school-record 10 3-pointers against Dana College. This past fall, Schmit was inducted into the Morningside College Hall of Fame for his playing career.
Prior to Morningside, Schmit was an All-State basketball player his junior and senior season for Jesup High School in Iowa, and finished as the school's all-time leading scorer.
Outside of his playing and coaching accolades, Schmit has built one of the premier basketball camp organizations in the country. Founded in 2006, Midwest Elite Basketball (MEB) is in its 13th summer conducting basketball camps all across the country. Since its inception, MEB has worked with over 500 high schools, impacted over 10,000 athletes and has as established network of over 100 college coaches on staff.
He graduated from Morningside College with a Bachelor of Arts in Business Administration in 2006. Furthering his education, he earned his Master's from Wayne State College in Organizational Management and Sports Recreation in 2008.
Schmit married his wife Jacque in 2015, and they have two young boys, Preston (2) and Jacob who was born on June 29th, 2018.