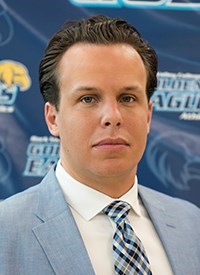 2015 MEB Coach of the Year
Evan Lavery
Director of MEB Indiana
Emporia State University , Assistant Coach, Men's Basketball
Rock Valley College Associate Head Coach
Rock Valley College Assistant Coach
Rockford University Assistant Coach
B.S. in Education
M.S. in Organizational Leadership
Evan Lavery has taken the reins as the Interim Head Men's Basketball Coach for Rock Valley College. The 2016-17 season will be Lavery's fourth with the program after serving as Associate Head Coach under Craig Doty for three seasons.
"We couldn't be more excited to bring Evan back to the Golden Eagle athletic department," said Director of Athletics Misty Opat.  "Evan was integral in the success of our program over the last three years and is respected by our student-athletes, coaches and the campus community."
In Lavery's three years on staff, he has been integral in all aspects of the Golden Eagles men's basketball program with a focus on recruiting, player development, defense, zone offense, out-of-bounds sets, strength and conditioning, and game preparation. Lavery was also instrumental in the development of All-Americans Jared Mayes (NJCAA National Player of The Year in 2014, 1st Team Selection in 2015), LT Davis (NJCAA National Player of The Year 2016), and Elijah Williams (2nd Team Selection in 2016).
In 2015-16, the Golden Eagles were ranked #1 in NJCAA Division III all year long for the second consecutive season. The Golden Eagles would avenge a three-point loss to Richland College (Dallas, TX) in the previous year's title game allowing RVC to win two National Championships in three seasons.  En route to their National Title, RVC won their six post-season games by an average margin of victory of 21.3 points per game. For a third straight season, Rock Valley broke the single-season record for victories, posting a 33-3 record.  The Golden Eagles started the season off 19-0 which is the best start in school-history. RVC knocked off two NJCAA D1 opponents who were nationally ranked, both of who made the NJCAA D1 tournament in Hutchinson this season. The Golden Eagles took down #6 Vincennes (IN) on the road to start the season off and the following weekend defeated #7 Indian Hills (IA) on the road.
In 2014-15 the Golden Eagles were ranked #1 in NJCAA Division III from the pre-season national poll until the final poll.  Along the way, RVC broke the school record for wins going 31-4 on the season.  Rock Valley played in the NJCAA Division III National Championship game in Loch Sheldrake, New York for the second year in a row.  Additionally, the Golden Eagles won the N4C Conference and the Region IV/District 2 championship.
In his first season at RVC, Lavery assisted the Golden Eagles to the NJCAA DIII National Championship.  In charge of team defense and nearly all scouts and game preparation, RVC was ranked #13 in the country in defensive FG% (40.2) and 14th in the nation in defensive 3PT% (29.7%).  In the national tournament semi-final game vs. defending national champion Brookdale CC, NJ (30-1), RVC held the Jersey Blues to a dismal 31.1%.  In the National Championship game, Rock Valley College held Caldwell Tech, NC (29-6) to 22-65 from the field for a chilly 33.8%.
Lavery joined RVC following a one-year stint as an Assistant Men's Basketball Coach at NCAA Division III Rockford University (IL).  While at RU, Lavery was instrumental in the development of 2nd Team All Northern Athletic Conference guard Scott Suchy.  In addition, Lavery was in charge of monitoring academics, on-campus visits, and assisted in recruiting.
Lavery played two years at NJCAA Kishwaukee College in Malta, Illinois where he was a two-year starter and captain. In his sophomore season, he helped lead the Kougars to a 6th place finish at the 2010 NJCAA DII National Tournament. Lavery went on to finish his playing career at Central Methodist University in Fayette, Missouri. A native of Dyer, Indiana, Lavery graduated from Lake Central High School in 2007. In his prep career, he was named an all-area selection by both the Northwest Indiana Times and the Post-Tribune.
Lavery holds degrees from Kishwaukee College (AS), Central Methodist University (BS) and Fort Hays State University (MS).