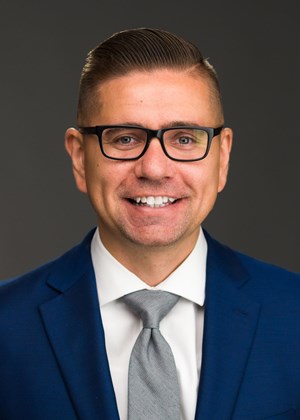 Craig Doty
MEB Owner & Co-Founder
Emporia State University (KS), Head Men's Coach
Graceland University Head Coach
Rock Valley College Head Coach
University of Sioux Falls Assistant
Riverland Community College Assistant
Central Wyoming College Head Coach (Interim)
Central Wyoming College Assistant
Morningside College Assistant
Three-time National Champion head coach Craig Doty is in his third season as the Head Men's Basketball Coach at Emporia State University, a historic program which was founded in 1901 and plays in one of the best facilities in all of NCAA Division II, White Auditorium.
Doty wasted no time making noise at the national level of NCAA scholarship basketball. In his first game as head coach, Doty's Hornets defeated #20 NCAA Division II Southwest Minnesota State University, 83-74 on the road. This would foreshadow the season to come as Emporia State would double their MIAA win total from the previous season, have the most wins since the 2013-14 season, and win an MIAA tournament game in Kansas City's Municipal Auditorium for the first time since the 2010-11 season. Along the way two ESU student-athletes would sign overseas professional basketball contracts to add to the long list of pro players that Doty has produced in his coaching career.
In his first season Doty brought an exciting brand of basketball which saw the Hornets break the single-game scoring record by scoring 127 points in a game. Six different players scored 20 or more points in a game which hasn't happened since the 1988-89 season. Three different players scored 30 or more points in a game.
Off the floor, Doty's Hornets were just as impressive. From the spring semester to the fall semester the men's basketball program improved their team GPA by an astounding half a grade point. Additionally, the ESU men's basketball team had 100% participation in community service which included winning Emporia State team of the week during the spring semester for their work with the Emporia Express special needs basketball team.
On April 27, 2018, Doty was introduced as the new head men's basketball coach at Emporia State University by athletic director Kent Weiser. In seven seasons as a head coach, Doty has won three national championships and has a 176-66 (.727) career head coaching record including a 79-42 (.653) mark in conference play. Doty's teams are an unprecedented 29-5 (.853) in post-season play.
Prior to his arrival in Emporia, Doty led Graceland University to national prominence. In just two seasons at Graceland, Doty's program had a 49-22 record and won the 2018 NAIA Division I National Championship in the school's first trip to the national tournament at Kansas City's historic Municipal Auditorium. Along the way Doty earned NAIA National Coach of the Year, HoopDirt.com NAIA National Coach of the Year, and the 2018 Don Meyer Award. Upon winning the 2018 national championship, Doty had led his teams to the National Championship game four out of the previous five seasons.
Prior to Graceland University, Doty spent four years as the head men's basketball coach at Rock Valley College where he built a national powerhouse. In 2012, when Doty took over the program, Rock Valley was ranked last in Region IV preseason poll. Over the next four years, Doty would put Rock Valley College on the national map leading the Golden Eagles to four consecutive national tournaments including three straight national title games. Rock Valley was crowed National Champions in 2014 and in 2016, the first and second national championships in the 50-year program history.
Doty compiled a 113-28 record (.801) at Rock Valley. Doty's program shattered the school record for wins in 2013-14 posting a 30-5 record while re-breaking that record the next two seasons going 31-4 and 33-3, respectively. Doty led the Golden Eagles to the #1 ranking in the country for the first time in program history on October 27th, 2014 and his program held on to the #1 ranking for the rest of Doty's tenure at RVC which included 24 consecutive national polls over 729 consecutive days.
Prior to Rock Valley College, Doty served as an Assistant Men's Basketball Coach at University of Sioux Falls (NCAA Division II) in South Dakota. In 2011-12, Doty was an Assistant Men's Basketball Coach and Recruiting Coordinator at Riverland Community College (NJCAA Division III) in Minnesota.
In the summer of 2010, Doty was hired as the full-time Assistant Men's Basketball Coach/Recruiting Coordinator at Central Wyoming College (NJCAA Division I). Following the season, Doty served as Interim Head Men's Basketball Coach for two months at CWC. Doty received nine commitments and recruited a roster that would go on to achieve a 20-11 record the following season.
A native of Alcester, South Dakota, Doty came to Central Wyoming after serving as a volunteer Assistant Coach at his Alma Mater Morningside College (NAIA Division II) in Sioux City, Iowa. During Doty's tenure with the program as a player and a coach, the Mustangs had a 56-37 record, made the Sweet Sixteen of the NAIA DII National Tournament, held a National Ranking of #10 in the country, and won a Great Plains Athletic Conference title.
Doty is a graduate of Alcester-Hudson High School. In his senior season, Doty set the school record for points per game in a season with an average of 25.5. His junior season, Doty led his squad to a 17-4 record and a number four ranking in the state of South Dakota.
Doty and his wife, Alexys, reside in Emporia with three children – son Braylon and daughters Amery and Sienna. Doty graduated from Morningside College with a Bachelor's Degree in English and a minor in Business Administration.
Doty Highlights
Selected to speak at the NABC convention at the 2019 NCAA Division I Final Four in Minneapolis, MN
3-time National Champion head coach (2014, 2016, 2018)
3-time National Coach of the Year (2014, 2016, 2018)
Don Meyer Award Winner (2018)
HoopDirt.com National Coach of the Year (2016, 2018)
Paul Maaske Memorial Iowa Basketball Coaches Association Coach of the Year (2018)
NJCAA DIII National Runner-up (2015)
NABC National Coach of the Year for all levels of junior college (2016)
2-time NJCAA Coaches Association National Coach of the Year (2014, 2016)
Selected to speak at the NABC convention at the 2017 NCAA Division I Final Four in Phoenix, AZ
Led Rock Valley to a #1 national ranking for 729 consecutive days
4x Don Klaas NJCAA Region IV Coach of the Year
4x Illinois Basketball Coaches Association Coach of the Year
4x NJCAA District 2 Coach of the Year
2x Gary S. Cole Coach of the NJCAA DIII National Tournament (2014)
2x NJCAA Allstar game coach in Las Vegas, NV (2014, 2016)
THE DOTY FILE
Head Coaching Career
At Emporia State Overall MIAA
2019-20 10-18 4-15
2018-19 14-16 8-11
At Graceland Overall HAAC
2017-18 29-10 14-5
Heart of America Tournament Champion
NAIA D-I National Champion
2016-17 20-12 16-10
Heart of America Tournament Runner-up
Total at GU 49-22 30-15
At Rock Valley College Overall N4C
2015-16 33-3 11-3
NJCAA D-III National Champion
2014-15 31-4 13-1
NJCAA D-III National Runner-Up
2013-14 30-5 10-5
NJCAA D-III National Champion
2012-13 19-16 7-7
NJCAA D-III National Elite Eight
Total at RVCC 113-28 41-16
Overall 186-84 Conference 83-57