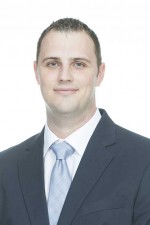 Cory Hoff
Graceland University (IA), Head Coach, Men's Basketball
Mesa CC (AZ) Assistant Coach
B.S. in Exercise & Wellness
M.A. in Coaching & Athletic Administration
Cory Hoff enters his first season as an assistant coach for Graceland University. Hoff's primary duties include being the recruiting coordinator, player development, scouting, academic support, and managing team defense.
A native of Deckerville, Michigan, Hoff comes to GU after spending the past four seasons at Mesa Community College, a NJCAA Division I institution in Arizona, three as the lead assistant and recruiting coordinator.
While at Mesa, Hoff assisted the Thunderbirds to an 84-36 overall record over four seasons. Mesa made the NJCAA Region 1 Division 1 playoffs in all four seasons. In addition to a 68-20 record in Arizona Community College Athletic Conference play, Mesa won the ACCAC regular season and Region 1 Division 1 playoffs during the 2013-14 season. Mesa acheived an ACCAC regular season and postseason runner-up finish in both the 2012-13 and 2014-15 seasons.
Hoff was responsible for recruiting, player development, scheduling, scouting, and academic support among his duties while at Mesa. Hoff helped to recruit and develop eight All-ACCAC student-athletes during his tenure. Hoff played a role in the recruitment and development of NJCAA Division 1 2nd team All-American, Khari Holloway, at Mesa.
Hoff graduated from Arizona State University with a Bachelor's Degree in Exercise Science and Wellness and Concordia University-Irvine with a Master of Art in Coaching and Athletic Administration.
Hoff resides in Lamoni with his wife, Tatum, and their two daughters, Talea and Caley.